The trend for alternative food products is growing rapidly as people increasingly look at alternatives to meat products and meals made with more sustainable ingredients. Veganism is big money at the minute and has been receiving a lot of coverage in the press and on social media, from stories such as Greggs highly successful new vegan sausage roll, KFC's new Quorn based vegan burger and events such as Veganuary.
It's suggested that vegans currently make up approximately 2% of the UK population, vegetarians 7% and flexitarians (people who don't eat meat every day of the week) make up around 20%.
Vegan ranges have been available for a while but the supermarkets are now fine tuning their offerings with 'Plant based' foods. Plant based foods are similar to vegan products with the addition of meat-like products made from plant products (such as soya, pea protein or mushrooms) and are aimed at more mainstream flexitarians. A vegan diet restricts foods such as honey and eggs though most supermarket ranges are vegan friendly too to cover both groups.
Even if a product is labelled 'plant-based' it doesn't necessarily mean that it's healthy though. Processed and packaged foods usually contain refined sugar, white flour and vegetable fats which, as they are classed as vegetarian, can still be labelled as 'plant-based'.
Here's a look at how the main supermarkets are implementing their new packaging designs for their latest ranges.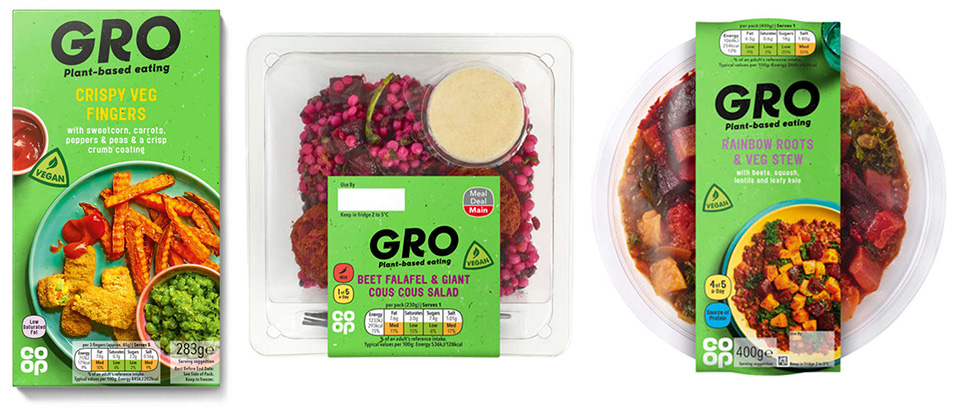 Co-op have launched a new range of vegan products called GRO. The plant-based food range (exclusive to Co-op) includes a variety of snacks and dishes inspired from around the world including ready meals, chilled food, sandwiches and wraps.
The packaging design is simple and clean, and features a black type-based logo placed at a slight angle which creates a friendly and positive tone. A green recycled card effect is used in the background which highlights the range's green credentials.

Asda's first own-label vegan range was launched in time for Veganuary (January). The range, which includes dishes such as Duckless Spring rolls and Butternut Mac, is largely mushroom based rather than soy. The range, called simply 'Plant Based', consists of 48 products.
Asda have also made the trays and sleeves 100 per cent recyclable.
The bright green background colours are an obvious environmental theme and the typefaces add a sense of fun. Ingredients photography are mixed with illustrations in a brush script style. The designs have an almost child-like design.

At the end of 2019 Sainsbury's launched their brand new 'Plant Pioneers' range. The 31 vegan plant-based range includes chilled and frozen dishes such as vegan steaks, Vacon and Shroomballs, Fishless Fingers and Southern Fried Bites.
The packaging design features a fun grey coloured font with dynamic green flashes. The light brown background features a recycled card effect (similar to the Co-op's design) to echo the environmental aspect.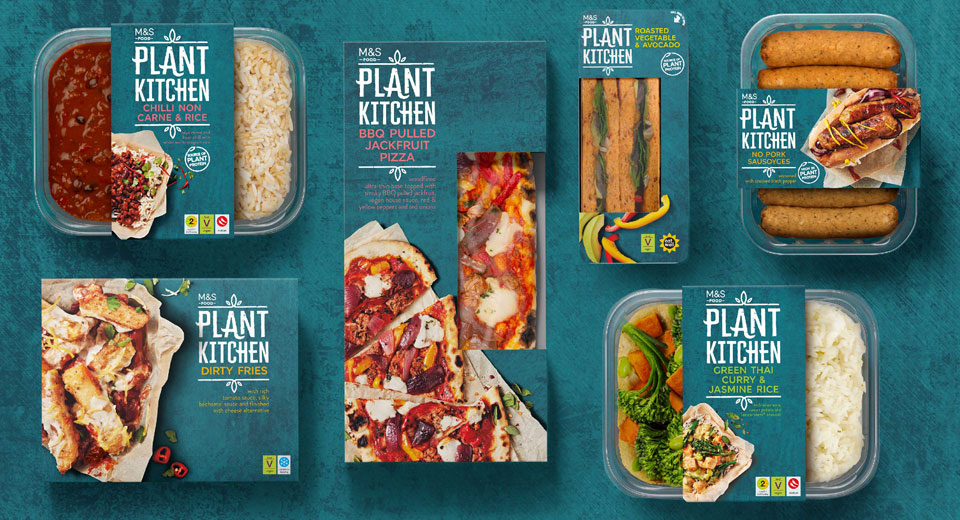 Marks & Spencer launched its new product range called 'Plant Kitchen' aimed at diet-conscious customers looking for alternative healthy food. The 'Plant Kitchen' product range's packaging was designed Coley Porter Bell.
The stylish, vibrant 'street food' design embodies a modern, fresh and contemporary feel. The distressed teal background and stamped typeface create a rustic, hand-made and natural feeling.
The range includes 60 meat and dairy-free plant-based fresh meals, salads, snacks and ingredients.
The Plant Kitchen range are the first M&S ready meals to use recycled trays, foil trays and cardboard boxes. M&S is also replacing its black plastic trays with widely recyclable alternatives for its popular healthy eating range 'Balanced For You' from January, as part of M&S's commitment to ensure all its plastic packaging is easy to recycle by 2022.

Aldi have got rid of their 'I Am Vegan' range, which was only launched in July 2019, and replaced it with a similarly styled 'Plant Menu' range to reflect the growing shift of non-vegans to eat meat-free meals and make it 'more inclusive' to vegans and non-vegans. Aldi has revamped the brand for the second time this year after previously replacing its 'Meat Free' range.
There are 20 initial products including masala roast cauliflower sausages and a red pepper and mango curry. 
The colours are vibrant and eye-catching with a fun and quirky font.

Tesco runs two tiers of plant based product. The premium tier called 'Wicked Kitchen' is styled more gourmet/chef style and uses more premium ingredients and recipes. The mainstream range, 'Plant Chef', uses 'delicious ingredients, from vibrant veg to hearty grains and pulses.'
The packaging design for the Tesco range takes on a more functional, corporate style, with traditional fonts contained within a white box. A '100% Plant Based' flash features across all the product packs. There are two areas of photography: one is a consistent close up shot of sliced vegetables, the other showcases the dishes shot on green plates with green backgrounds.
Tesco launched their second vegan range in September.
What design patterns and trends can we see from these packaging designs?
'Plant Based' is the key message rather than purely 'Vegan'
Designs are fun and quirky with a sense of adventure
Non-corporate approach with minimal branding
Fonts and illustrations create a rustic and hand-made feel
Dishes are international and reflect a global appetite. They present new tastes, new recipes and flavours
Product names are a play on words with puns on traditional dish names
Packaging design is presented as environmentally friendly, ethical and responsible
Colours are earthy and fresh with a predominantly green palette.